BlockChain Training In Hyderbad
(New Batch Starting on Monday)
| | |
| --- | --- |
| Trainer Name | Mr. Ganesh |
| Trainer Experience | 7 Years |
| Course Duration | 2 Months |
| Timings | Monday to Friday (Morning to Evening) |
| Next Batch Date | 19th SEP 2022 AT 11:00AM |
| Training Modes | Classroom [HYDERABAD] / Online |
| Location | Hyderabad |
| Contact | +91 900 000 0000 |
| Mail us | blockchaintrainings.in@gmail.com |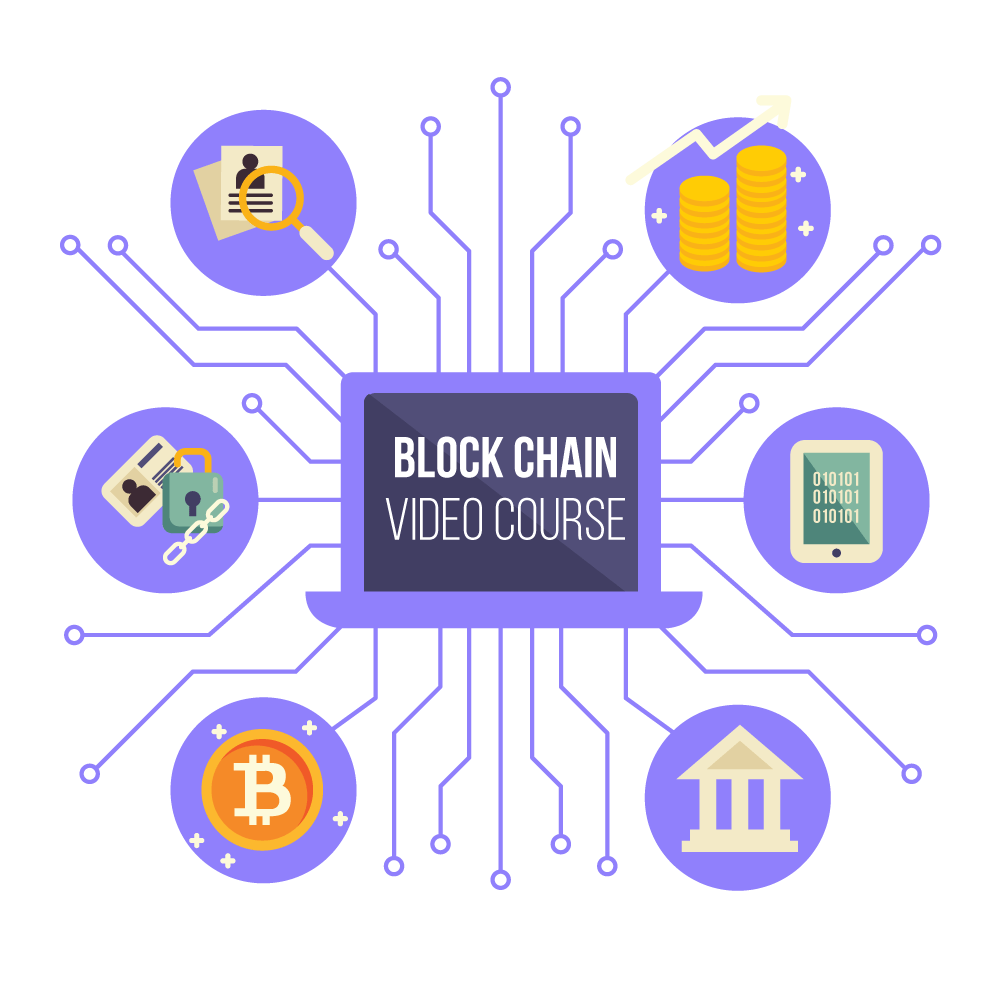 Blockchain is a popular and quickly expanding technology that offers freedom and security over the internet for people worldwide. Expert professionals can teach you how to apply blockchain principles to everything, from apps to financial solutions. Become a part of this growing culture of decentralization with a blockchain course on Block ChainTraining at Hyderabad.
Learn more about Blockchain Video Course
Blockchain is the technology behind cryptocurrency, smart contracts, and DAPPs (Decentralized Applications). A blockchain is a computer program that serves as a shared, unchangeable ledger that is completely transparent, highly secure, and viewable only by those on a permitted network. Blockchain classes on Udemy can teach you the intricacies of this growing and evolving technology.
BlockChain Video Course Curriculum
This Blockchain training in Hyderabad is created by industry professionals for you to master Blockchain. As part of the training, you will learn how to be a Blockchain Developer, understand the architecture of it, along with learning distributed ledger, MultiChain, Hyperledger, applications like Bitcoin, etc.
Blockchain Training Course Curriculum
Blockchain introduction, Blockchain technology, network, and its mechanism, Blockchain history, Blockchain benefits, blocks and transactions in Blockchain, peer-to-peer systems, block structure in Blockchain, dynamic shared ledger, digital signatures, building Blockchain solutions, using hashes as addresses, Bitcoin keys storage, using a key as identity, Bitcoins trade and transactions, Blockchain ecosystem core, and Blockchain layers: data layer, consensus layer, and network layer.
Detailed Study of Blockchain
Bitcoin introduction, what is Bitcoin?, Bitcoins network, Bitcoin mining, Bitcoin wallets, Blockchain alternatives, smart contract, public network and private consortium, Ethereum virtual machine, Ethereum environment, Merkle tree, Dapps, Decentralized Autonomous Organization (DAO), double-spend problem, Blockchain impact on cryptocurrencies, Bitcoin mechanics, transcriptions, scripts, peer-to-peer network, blocks, and security measures.
Identification of Bitcoins and their era, where and how to get Bitcoins, identifying Bitcoin wallets, Jaxx wallet, defining the selling of Bitcoins, comparing between Bitcoin and Blockchain, transaction and transaction scripts, defining scripts in Bitcoin, describing various transaction forms in Bitcoin, listing the nodes in Bitcoin network, etc.
Understanding Bitcoin Economics, what is Bitcoin mining?, fabrication of block header, defining mining, understanding more about mining: identification of the successful mining, types of mining pools, what is solo mining?, listing the problems in solo mining, benefits of pooled mining, consensus, independent verification of mining, autonomous verification of mining, the checklist for the mining verification, combining transactions into blocks, combining verified transactions, portrayal of difficulty, condition of difficulty, the creation of block header, main chain, orphan block, the creation of a new block, independent validation of the new block, race for Bitcoin mining and hash race, difficulty with the hashing power of miners, etc.
Ethereum and Working with Smart Contracts
Understanding Ethereum, defining Smart Contracts, Ethereum cryptocurrencies' identification, Ethereum transactions, the consensus mechanism in Ethereum, listing various development technologies, how to identify Ethereum clients, defining platform functions, understanding and describing Solidity operators and functions, the MetaMask setup, Ethereum network interfacing, the first smart contract, Ethereum accounts and how to go about receiving Ether, structuring a contract, declaring a function, deploying and redeploying a contract; comparing between Wei and Ether, Remix testing, what is a gas transaction?, etc.
Setting up a Private Blockchain Environment
The creation of smart contracts on Ethereum, Remix browser, defining MetaMask, Blockchain installation, Go language installation, explaining Blockchain creation: the genesis block list, genesis.json file parameters, and Blockchain making rules, performing Blockchain mining, Blockchain environment contract deployment, boilerplate requirements, project file walkthrough, syntax highlighters, compiling Solidity and script, the testing architecture, installing modules, running Windows, Web3 Versioning, Web3 Providers, Refactor to Async/Await, deployment with Web3, Web3 Version Fix, initial message verification, testing message updates, deployed contracts in Remix, Crowdfunding Smart Contract, Voting Ballot Smart Contract, application architecture of Ethereum and its overview, getting started with create-react-app, multiple Web3 instances, Web3 setup, etc.
Understanding Hyperledger Blockchain and Hyperledger consensus algorithm, explaining Hyperledger Iroha, identifying different Hyperledger components, learning about Channels, Policies, and Chaincodes, listing various Hyperledger Explorer components, defining Hyperledger Composer, Hyperledger introduction: what is Hyperledger? distributed ledger technology and its challenges, Hyperledger Fabric Developer Environment tools, their usage, and their setup on: Windows, Mac OS, Linux/Ubuntu, AWS, and Cloud virtual machines, Development Environment topology, Fabric Under Hood: concepts and terminologies, ledger implementation; Dev Environment walkthrough: Orderer and CA Server, Peer and CouchDB setup, Peer nodes: Anchor Peers, and Endorsing Peers, Client nodes, Orderer nodes, Endorsement Policies, Membership Service Provider and Certification Authority, and Chaincode Development.
Hyperledger Composer and its benefits, Hyperledger conceptual components, the structure and example: business network automated auction market for cars, model, metadata, script file, ACL, open-development toolsets, archive, business networks testing, business networks modeling, Hyperledger Composer playground, and using Hyperledger Composer to develop applications.
Creating a Private Blockchain with MultiChain
Defining MultiChain and describing its various streams, creating and deploying a private Blockchain, explaining how to connect to Blockchain, identifying MultiChain interactive mode, defining the Transaction Metadata, listing Native assets, streams and mining, Bitcoin to private Blockchain, the hand-shake process, the aim of MultiChain, various use cases of MultiChain; MultiChain permission and assets, the basics of retrieving from streams, consensus model, MultiChain flexibility, deployment options, speed and scalability, downloading and installing, initializing and connecting to Blockchain from a second server, connection permission, creating a new address, permission to create assets, new assets, native assets, connected peers, checking asset balance, verifying transactions, and resending assets.
Potential use cases in Blockchain, the proof of existence, identity management, record keeping, UPROOV: Mobile Trust Machine, online music problem solution, car leasing and sales, DocuSign, Forecasting, Augur, log operational maintenance data, cloud storage, STORJ: decentralized cloud storage, Retail: OpenBazaar, Ascribe: for securing your work, ride sharing, and supply chain management, Blockchain and IoT, autonomous decentralized peer-to-peer telemetry, IOTA, Freight Transportation, IBM Watson IoT, ADEPT, banking industry projects: payments, trading platform, KYC, loan management process, capital market system, and fraud reduction, government: online voting, real estate, capital markets, and devising public policies, Estonia: identity management and e-voting, Georgia: Blockchain land registry, Delaware, USA: Smart Contracts and making public policies, and Dubai: Digital passports.
IBM Blockchain Foundation Developer
Deploy a Web-based Blockchain Insurance Application
Why choose our BlockChain Video Course?
Our BlockChain Video training is a self-paced online training. It is an ideal option for people who are busy and cannot attend the live classroom training. This BlockChain Online Video course is a collection of the recorded sessions of our certified and Experienced industry experts. Our BlockChainVideo course consists of a comprehensive library of high-quality tutorials that are carefully designed to help you achieve your goals quickly and easily.
This BlockChain Video course will take you through every aspect of BlockChain such as; What is BlockChain, its types, advantages, different applications and how to set it up. We have also included case studies with real world examples to give you a practical idea of how to use BlockChain. Another advantage of our BlockChainvideo course is, you can go through the lessons as many times as needed till you are satisfied. This means you will get to learn BlockChainquickly and efficiently. This BlockChain video course is suitable for both beginners and advanced users.
You will get access to the entire video course material which consists of 25+ lectures and video tutorials. The video tutorials are extremely easy to follow along with and understand. The video tutorials can easily be downloaded onto your PC, MAC or any other device.
You will also receive a certificate of course completion once you have successfully completed our BlockChain Video course program. This certificate can be used for future reference to prove your qualification  to potential employers or to enhance your resume
Our BlockChain Video course includes lifetime access to the course, support material, course recordings, and a certificate of course completion.
Blockchain Certification Course FAQs
Modes of Training for BlockChain Training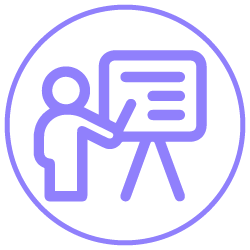 Classroom Training​
Blockchain training provide you with classroom training facilities for Blockchain technology in Hyderabad were you can attend our classroom training for a live interactive experience and clarify all your doubts with our expert trainers.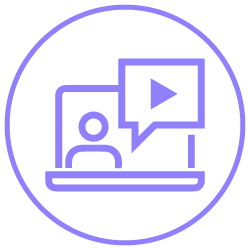 Live Video Training
Blockchain trainings live virtual online sessions are very interactive.Students can join our Blockchain online training sessions from anywhere in the world at their own time and comfort.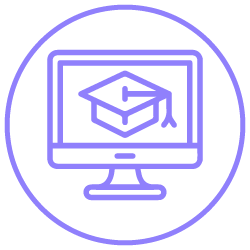 Selfpased Video Course
Blockchain tarinings self-paced Blockchain video course is highly convenient and interesting.This is a complete set of the video course.Students can revise and learn the course at their own pace and time